Star Rating: **** 4/5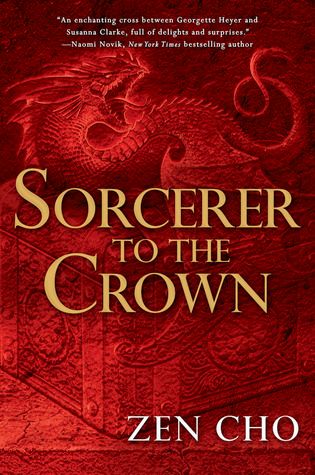 Title
:
Sorcerer to the Crown
Author
: Zen Cho
Genre
: Fantasy
Subgenre
: Magical Regency England (I admit I don't actually know what this subgenre is called ... )
Review by Silicon.
Magic and mayhem collide with the British elite in this whimsical and sparkling debut.

At his wit's end, Zacharias Wythe, freed slave, eminently proficient magician, and Sorcerer Royal of the Unnatural Philosophers—one of the most respected organizations throughout all of Britain—ventures to the border of Fairyland to discover why England's magical stocks are drying up.

But when his adventure brings him in contact with a most unusual comrade, a woman with immense power and an unfathomable gift, he sets on a path which will alter the nature of sorcery in all of Britain—and the world at large…
Intro
This was the first book in the Diverse SFF Book Club (
#DSFFBookClub
on twitter, join us!).
This is a Regency England setting with magic! Every now and then I get a hankering for some good high society magical England novels, and this book absolutely fits the bill. However, there is one little difference between those books and this one:
DIVERSE CHARACTERS.
(I was gonna hit the CAPSLOCK button sometime ...)
Characters
Our mains are Zacharias, a black man, and Prunella, a half-Indian woman. In a Regency England setting! Tell me, when have you read a Regency or Victorian England book with even ONE non-white character. Go on, I'll wait. (Gail Carriger's Finishing School has one black boy, but to me he's always felt very much a token ... a discussion for another post).
Cho writes the realities of being a PoC in a predominately white society excellently--both Zacharias' and Prunella's experiences really ring true. Both Zacharias and Prunella regularly have to deal with racist mindsets from people around them--sometimes even people on their side. I've now written a whole damn post on this topic so stay tuned for when that comes out! I really enjoyed reading a PoC perspective on this era in English history.
(BTW, take a look at the twitter account
@medievalpoc
. I love it. ACTUAL IMAGES of PoC in medieval times! In Europe, even!)
Cho also doesn't hesitate in exposing the sexism of society and how it affects her characters. Prunella, of course, is fully cognizant of the limitations society places on her--and her response it to reach in, grab, and
twist
society to MAKE her a place. She's determined, resourceful, and knows what she wants and isn't afraid to upset society's apple cart to get it!
As a contrast, Zacharias is a calm and thoughtful character determined to work for society's good despite his colleagues' rejection of him. He faces some of the worst machinations of the antagonists, and yet persists in doing his duty to the fullest extent.
I loved Zacharias' and Prunella's conversations that show how different their worldviews are.
Cho also includes a woman who, in my mind, is in a tight race with Prunella to be my favorite character. Mak Genggang, a Malaysian magician who wreaks havoc in London (both intentionally and unintentionally)! I loved her friendship with Prunella. She's definitely someone I'd want on MY side!
Plot
England's magical stocks are drying up, and the English Magicians are pissed. The task falls to Zacharias, Sorcerer Royal, to solve why. But his enemies are numerous and many hope for him to take a fall--even fatally.
Prunella is a woman with an astounding magical gift, and barely a friend in the world. Left bereft of protection yet possessing a secret of great magical value, she is determined to use her power to turn her situation around and secure for herself a place in a society that doesn't want her.
What happens when they meet?
The plot is not fast paced but not glacial either. There are several aspects to the political conundrum the characters face which come to light throughout the book, it's not a simple antagonist they face, and the problem isn't one-sided. However I did not feel particularly surprised by any twist save the viciousness of the other magicians.
I also felt some of the solutions were just a tad too neat for my twisty brain. While I enjoyed the magic system, a lot of it was hidden in academic language that is unexplained: such as obtuse spell names after people long dead. For me, it made it harder to really assess what the limits of magical power really were.
I was very pleased with the ending. NO SPOILERS. (And by now I hope you all know I can be very pleased with either a tragic or a happy ending so YOU KNOW NOTHING, JON SNOW *coughs*).
Writing Style
This book's style is marked by a beautiful use of language reminiscent of Jane Austen (I haven't read Heyer myself, but Cho was inspired by her novels!), very precise and absolutely period-perfect to my ear. Cho doesn't break voice even once, absolutely no modern phrases or anachronisms! Lots of snarky dialogue with double meanings, swift retorts, and imaginative metaphors! I adore snark, so I had a lot of fun reading along, especially with Prunella's conversations. The dialogues are insightful, deep, but also funny, bantering, and intelligent!
Magic System
I enjoyed the magic system--it's very scholarly in general, but with inclusion of familiars, magical artifacts, and capricious fairies. I liked the double-edged nature of the familiars a lot--beneficial, yes, but at what cost! It was really interesting to have a magic system where magic is inborn, but suppressed by society in women while encouraged in men. The magic school for girls shown in the beginning of the book shows how magic can be turned to harmful to the user, intentionally so. It was an interesting take on a naturally magical society.
Final Remarks
You may think that with all the "heavy" subjects I've mentioned that this is a dense brick of a novel. Not true. The story is very much in the style of magical Regency settings--lighthearted, whimsical, funny. That Cho is unafraid to include experiences of racism & sexism in such a novel is something I greatly appreciated. Yes, your characters can experience microaggressions but also have whimsical, funny magical escapades. This is not a heavy book at all.
I really enjoyed this novel and would HIGHLY recommend it to anyone who is fond of:
Sorcery & Cecilia
by
Patricia C. Wrede

and

Caroline Stevermer
Gail Carriger's Finishing School series (Book 1:
Etiquette and Espionage
)
Jane Austen
Georgette Heyer
Join in the discussion on Twitter using the #DSFFBookClub hashtag!